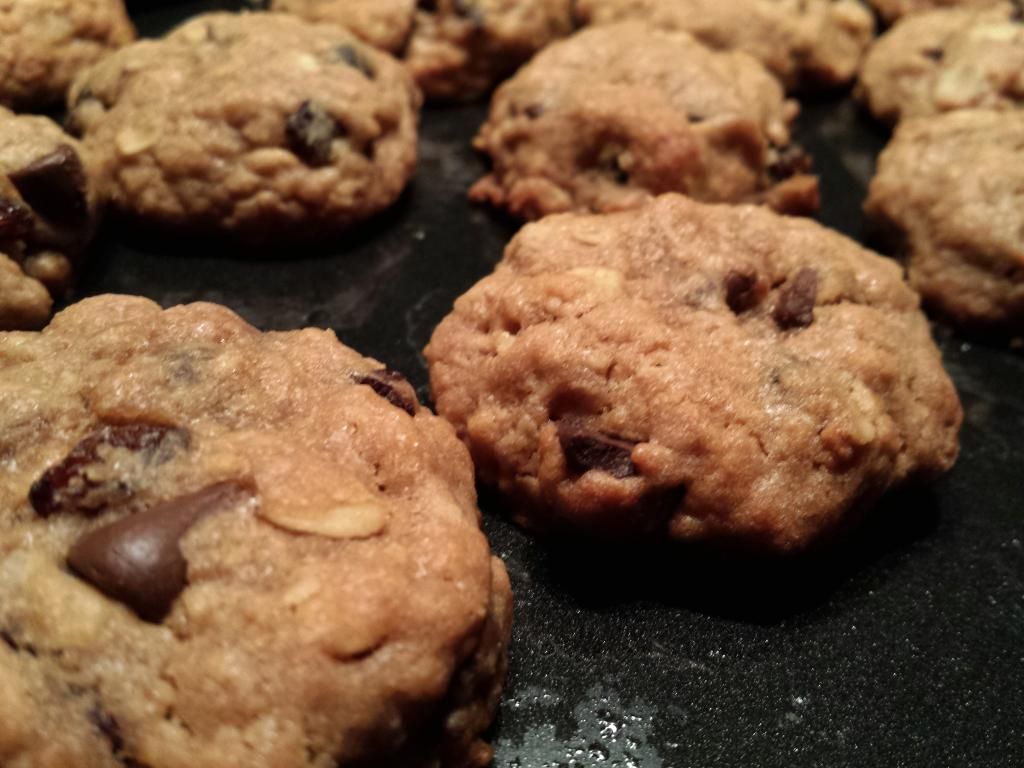 What do you do when you can't decide if you feel like anzac biscuits or choc chip biscuits? You make these mega choc chip raisin oat cookies and get the best of both worlds!
These cookies are easily in my top 5 biscuits of all time. I've made them three or four times in the past 6 months, which is huge considering there's only two of us living here and there's only so many cookies you can eat in a week (or at least, there's only so many you should eat). The combination of choc chips, raisins and oats in a chewy cookie base is incredible, and so satisfying.
I like my oat cookies chewy and slightly undercooked, which is why they're a little fat, if you prefer crunchy biscuits make sure you flatten the cookies before baking, and add a few minutes to the cooking time.
This recipe certainly isn't the healthiest, but it also isn't the worst. If you're craving something sweet and a "super healthy" (read "completely bastardised") version of the original won't cut it, then these biscuits are the sort of thing you should be reaching for. I think it's much better to have wholesome, home-made sweet treats rather than store bought options filled with artificial rubbish. The oats and dried fruit in these biscuits also mean you're getting some fibre, so they're not totally awful :p
I used a recipe for Anzac biscuits as my base, and added a few extra things so that it all holds together, I hope you love them as much as I do!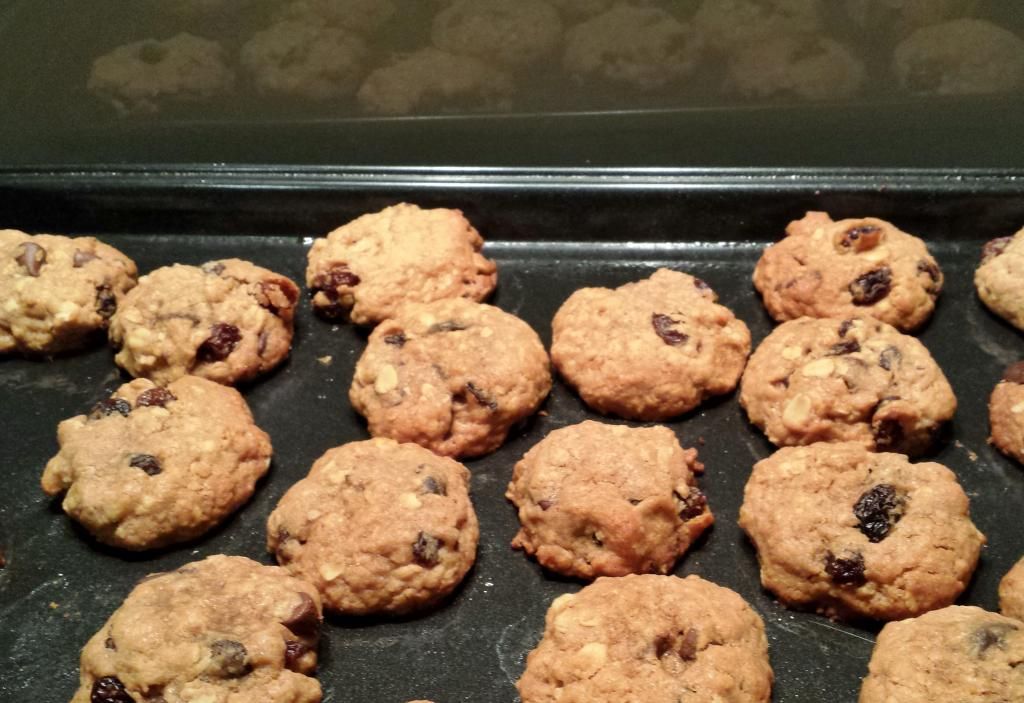 Choc Chip and Raisin Oat Cookies – makes 24
Ingredients
1 cup rolled oats

1 1/4 cup plain flour

2/3 cup brown sugar

2/3 cup desiccated coconut

125g butter, chopped

2 tablespoons golden syrup

1/2 teaspoon bicarbonate of soda

1 egg
1/2 cup dark choc chips
1/2 cup raisins
Method
Preheat oven to 160°C/140°C fan-forced. Grease 3 baking trays.

Mix oats, flour, sugar , coconut, choc chips and raisins in a bowl. Combine butter, syrup and 2 tablespoons cold water in a microwave safe bowl and microwave for 2 minutes, or until melted, stirring every 30 seconds. Stir in bicarbonate of soda. Add butter mixture and egg into oat mixture, stirring to combine. The choc chips will start to melt a little at this point, so try not to over stir the mixture.

Roll tablespoons of mixture into balls, again being mindful of the melting chocolate. Place on trays, 5cm apart. Flatten slightly if you like thick cookies, or flatten more if you prefer thin and crunchy. Bake for 10 to 12 minutes or until light golden. Allow to stand for 5 minutes before transferring to a wire rack to cool completely. Store in an airtight container for up to 1 month.
Happy baking!
Ellen